FanClub Focus: free video clip
The FanClub section of EroticStories.com has 1200+ hot video shoots (most in HD format) of very high quality. That's more than 250 hours of hot sex action! Try our free sample below.
Videos are available in several formats:
MP4 (H264) format:
Newer format, resulting in better quality for the same size video. If you can play them, use these instead of the WMV versions. Newer videos also come as
High Definition
in this format.
The lower quality versions in MP4 should work well on mobile devices.
Windows Media (WMV), old format:
As the name states, supported well by Windows (even on old versions). This is the format used since day one on this site. Can be played with Windows mediaplayer.
Note: some videos are high quality, so they are large. It is unlikely that you will be able to stream these straight in your browser. The best thing to do is download them first (
right click on the part you want to download and choose "save target as.." or "save links as.."
).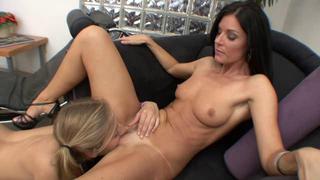 Click picture above to play video (like youtube).
Click here to join the FanClub for hundreds more clips
And there's a lot more to the FanClub! To summarize:
Thousands of stories (more than 25,000!) in the FanClub story archive.
3000+ Picture galleries with tasteful, high quality pictures.
1200+ video galleries (most in HD) with high quality video clips in Windows Media Player (.wmv) and MP4 format.
No more banners or any other advertising! You get clean, fast loading pages!
Option to show a whole story on one page.
Option to show a "plain text" story for easy printing or saving to disk.
Option to easily "bookmark" your favourite authors.
Option to be notified when a favourite author adds a story.
Option to easily "bookmark" your favourite stories.
Send your favourite stories to yourself through email.
Seach engine, that searches the FULL text of the stories for keywords.
Click here to join!
---
Send email to webmaster Art for support
Powered by StoryEngine v2.00 © 2000-2018 - Artware Internet Consultancy